Customize note
In GloboNote you can customize each note the way you want it. To customize note, right click on the note then select Preference. A window will be displayed like this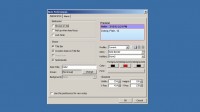 In Note Preferences window, you can select how note will behave, make it always on top, roll up when not editing, lock it to prevent futher editing.
You can customize how the note will look like, you can remove the title bar, creation date, border, title bar color, body color, font and more.
You can also save the settings of the note by clicking on the save button near the Profile label. Assign a name to the profile then click OK. The new profile will be shown in the selection.
To make this note settings the default behavior for all new notes, check the Use this preference for new notes.